7h 13min, dec 1, 1981 y - Radio Venceremos broadcasts coming Operation Rescue
Description:
Radio Venceremos, the leading guerrilla radio station, broadcasts a coming Army operation (Operation Rescue) in the area near El Mozote. The guerrillas in the area, the ERP, prepare to flee as do many peasants.
Added to timeline: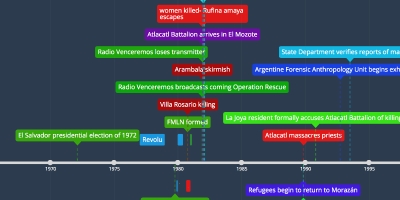 The Massacre at El Mozote
A timeline of Mark Danner's account of the 1981 massacre at ...
Date: