3h 25min, dec 2, 1981 y - Marcos Díaz promises protection for El Mozote
Description:
Marcos Díaz, the wealthiest man in El Mozote, warns people in the surrounding areas that the Army would soon be coming through and that they would be protected if they came to El Mozote. Many believe him and come to the hamlet. ERP leader Joaquín Villalobos later states that guerrillas tried to warn the people of El Mozote, but many felt they had nothing to fear from the army because they were "evangelicals" and had no relations to the guerrillas. (pgs. 33-34)
Added to timeline: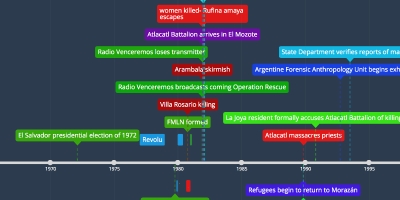 The Massacre at El Mozote
A timeline of Mark Danner's account of the 1981 massacre at ...
Date: