feb 9, 1981 - Atlacatl Battalion formed
Description:
In early 1981, U.S. Special Forces were sent to El Salvador to train a new Immediate Reaction Infantry Battalion. This battalion became known as the "Atlacatl Battalion" and was considered to have an animal-like mystique. Headed by the legendary military commander Colonel Domingo Monterrosa, the Atlacatl Battalion became primarily responsible for conducting the infamous search and destroy operations in Morazán.
Added to timeline: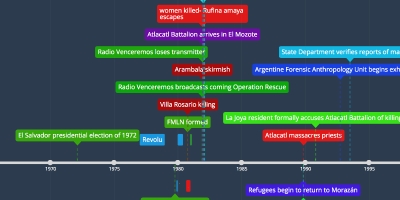 The Massacre at El Mozote
A timeline of Mark Danner's account of the 1981 massacre at ...
Date: