dec 2, 1980 - American churchwomen murdered
Description:
Four American churchwomen, including three nuns, were raped and murdered by the National Guard on their way to the airport in San Salvador. The international attention following the murders forced President Carter to suspend all aid to El Salvador- he later reinstated it.
Added to timeline: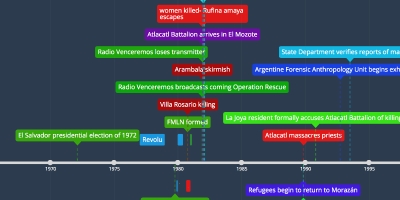 The Massacre at El Mozote
A timeline of Mark Danner's account of the 1981 massacre at ...
Date: