2h 33min, jan 14, 2018 y - Israel says destroyed Gaza attack tunnel under Israel, Egypt borders
Description:
Kerem Shalom, the main passage point for goods entering Gaza, was shut down on Saturday before the Israeli attack.
Underground tunnels are used to smuggle in all manner of commercial goods to Gaza, and to bring in weapons for militants from Hamas and other groups. They have also been used by Hamas to launch attacks inside Israel.
During the last Gaza war, in 2014, Hamas fighters used dozens of tunnels to blindside Israel's superior forces.
The Israeli military said it has destroyed three tunnels in the past two months.
https://www.reuters.com/article/us-israel-palestinians-tunnel/israel-says-destroyed-gaza-attack-tunnel-under-israel-egypt-borders-idUSKBN1F3079
Added to timeline: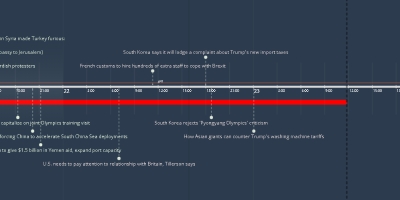 World Politics Time Line 2018
For more information, go to: http://visualtrackers.com/world...
Date: