18h 9min, jan 12, 2018 y - Russia-friendly Czech President Milos Zeman VS pro-western runner-up Jiri Drahos
Description:
"I voted for professor Drahos because I want someone who will not push us to the East and who will not be a disgrace," said lawyer Matej Gredl, 30, after he voted in Prague.
The vote is seen as a referendum on the 73-year-old Zeman, in office since 2013, who has criticized immigration flows from Muslim countries and Germany's decision to accept many migrants.
While most Czechs share his views on immigration, Zeman's inclination toward far-right groups and his warm relations with Russia and China have split public opinion, with a sizeable chunk of the electorate favoring pro-western candidates, including 68-year-old academic Drahos.
A former center-left prime minister and backer of a federal Europe, Zeman has gradually shifted to positions criticizing the EU, echoing and reinforcing public sentiment.
He has won endorsements from some mainstream groups as well as the Communist Party and the main far-right anti-EU and anti-NATO SPD party.
https://www.reuters.com/article/us-czech-election-president/pro-russian-czech-president-faces-challenge-from-newcomer-in-runoff-election-idUSKBN1F12RH
Added to timeline: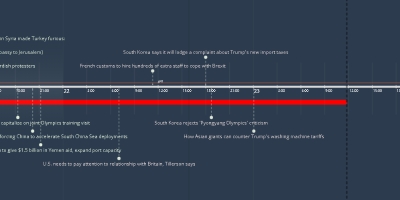 World Politics Time Line 2018
For more information, go to: http://visualtrackers.com/world...
Date: