21h 49min, jan 13, 2018 y - Netanyahu urges Macron to 'fix' Iran nuclear deal
Description:
Israeli Prime Minister Binyamin Netanyahu told French President Emmanuel Macron Saturday that changing the nuclear deal between Iran and world powers would increase the chances of it remaining in place.
Netanyahu's phone call with Macron came a day after US President Donald Trump demanded that European partners work with Washington to "fix the deal's disastrous flaws, or the United States will withdraw."
https://www.israelnationalnews.com/News/News.aspx/240609
Added to timeline: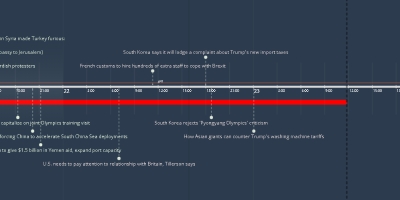 World Politics Time Line 2018
For more information, go to: http://visualtrackers.com/world...
Date: