jul 17, 2017 - MegaPack Update #16 Version 12.0
Description:
As promised, the first part of the free MegaPack update is online (Version 12.0, 300+ brushes).
https://gumroad.com/l/procreate
The "pre-release" update includes:
• BLENDING SCULPTOR A
• BLENDING SCULPTOR B
• ELI CHARCOAL A
• ELI CHARCOAL B
• EXHAUSTED EDDY
• RAGGED RUDOLFO 1.2
• TSUTSUMI DICE 1.2
• WORDEN 2.0
All brushes are sensitive to pressure, tilt, and speed. I'll add cheat sheets and demo strokes for the new brushes tomorrow.
I also added 15 new color swatches as a free bonus:
Added to timeline: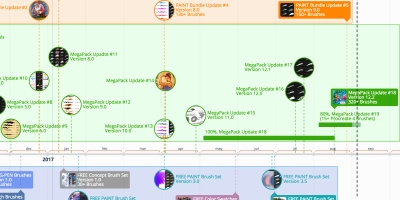 Georg's Procreate Brushes - Updates, New Brushes and Release Dates
Updates, new brushes, and sets for Georg's Brushes:
http://p...
Date:
Images: