3h 8min, jan 12, 2018 y - Thousands of Greeks protest over right to strike
Description:
"This government is a leftist in name only, but in deeds its a junta."
"This essentially abolishes the right to strike ... such things only happened during the junta," said retired ship officer George Papaspyropoulos, referring to the military dictatorship that ruled Greece from 1967 to 1974.
The government says it needs the reforms to receive tranches of bailout aid. The latest bailout, worth up to 86 billion euros ($104 billion), expires in August. So far Greece has received 40.2 billion euros, and a new tranche is expected to be worth around 4.5 billion euros. ($1 = 0.8288 euros)
https://www.reuters.com/article/us-eurozone-greece-strike/thousands-of-greeks-protest-over-right-to-strike-hitting-hospitals-transport-and-shipping-idUSKBN1F10PN
Added to timeline: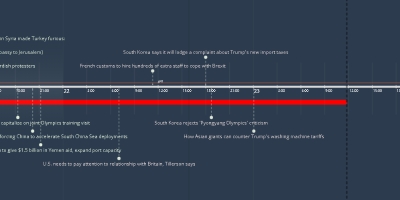 World Politics Time Line 2018
For more information, go to: http://visualtrackers.com/world...
Date: