12 h, jan 11, 2018 y - Saudis Shortlist New York, London, Hong Kong For Aramco IPO
Description:
Saudi Arabia has shortlisted New York, London, and Hong Kong for the initial public offering of its oil giant Aramco, with the three exchanges considered either singly or a combination of two of them, or even all three, Reuters reported on Thursday, citing two sources familiar with the latest developments.
One of the sources told Reuters that talks involved listing Aramco at least on two of the three shortlisted foreign exchanges. According to the other source, the Saudis may opt for a phased listing, with the domestic listing taking place first, and listing(s) in the foreign exchanges at later stages.
The London Stock Exchange has been widely considered a favorite for the floating, with the UK government and the Financial Conduct Authority—the financial markets watchdog—both working hard to win the hearts of the Saudis. However, these efforts on the behalf of the FCA backfired when it was revealed that the regulatory authority was considering changing its listing rules especially for Aramco.
https://oilprice.com/Latest-Energy-News/World-News/Saudis-Shortlist-New-York-London-Hong-Kong-For-Aramco-IPO.html
Added to timeline: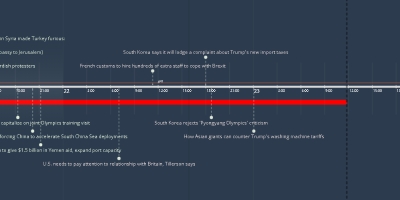 World Politics Time Line 2018
For more information, go to: http://visualtrackers.com/world...
Date: