22h 5min, jan 11, 2018 y - Trump to extend Iran sanctions relief, keeping nuclear deal intact: source
Description:
U.S. President Donald Trump will extend sanctions relief granted to Iran under its 2015 nuclear deal with the United States and other world powers, leaving the accord intact for now, according to a person familiar with the decision.
However, Trump, who has vowed to scrap the pact, was expected to give the U.S. Congress and European allies a deadline for improving it, the person said. Without improvements, Trump would renew his threat to withdraw from the agreement.
https://www.reuters.com/article/us-iran-nuclear-decision/trump-to-extend-iran-sanctions-relief-keeping-nuclear-deal-intact-source-idUSKBN1F108F
Added to timeline: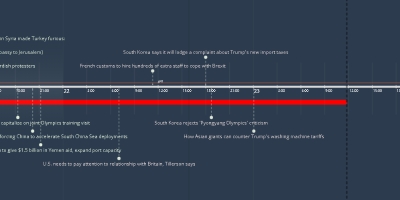 World Politics Time Line 2018
For more information, go to: http://visualtrackers.com/world...
Date: