mar 22, 1959 - Pens essay writing about Canadian 20th Century compositions
Description:
https://www.musiccentre.ca/sites/www.musiccentre.ca/files/resources/pdfmedia/RSN_panpipes_292_archer_note.pdf
In this essay, Violet Archer discusses the future of Canadian art music composition, gives kudos to the Canadian Broadcasting Corporation, and gives real statistics of the known Canadian composers at the time of her writing.
Added to timeline: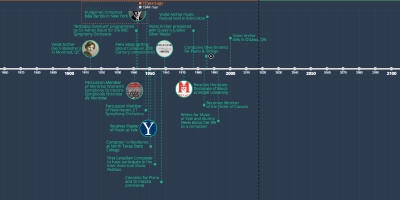 Violet Archer Timeline
A short timeline with pictures, videos (of music), links to essays, programs, and documents that state Violet Archer to be an influential composer in the 20th Century.

She has received worldwide acc...
Date:
Images: