sep 1, 1940 - Percussion Member of Montreal Women's Symphony Orchestra- Symphonie féminine de Montréal
Description:
(1940-1947)
This women's Symphony, the first of its kind in Canada, was led by Ethel Stark. The orchestra was the first Canadian Orchestra to play Carnegie Hall, in New York. Hugely important to the women's movement and feminist issues in Canada at the time. Consider that the first woman to join an American Orchestra was in 1930, harpist Edna Phillips, to the Philadelphia Orchestra. (Taken from Wikipedia): Women were nonexistent in most major music symphony orchestras up until the 1960s. Orchestras like this one paved the way for North American orchestras to accept more women- while some orchestras in Europe of more fame (Berlin, Vienna) took until the 80's and 90's to accept women into their orchestras.
Added to timeline: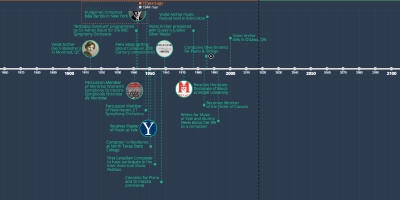 Violet Archer Timeline
A short timeline with pictures, videos (of music), links to ...
Date:
Images:
Geo: