4h 54min, jan 10, 2018 y - Bloomberg: Vancouver Group meeting details
Description:
While few details have been released, the Vancouver guest list includes 17 countries that contributed troops to United Nations forces during and after the Korean War, according to a document distributed to reporters Tuesday by Japan's foreign ministry.
Possible Guest List:
http://www.usfk.mil/About/United-Nations-Command/
A Japanese foreign ministry official also criticized the list of invitees, saying they "are not necessarily the 17 countries most affected by North Korea." The official, who asked not to be identified in line with government policy, said Japan had been given no details on who would attend, what would be discussed or how the event would be organized.
Ties between Canada and Japan were strained in November, after Prime Minister Justin Trudeau raised last-minute objections to an effort by the remaining 11 participants in a Pacific trade pact to revive the deal without Trump.
Chinese Foreign Ministry spokesman Lu Kang said Wednesday that an upcoming Canadian-organized meeting on North Korea would "not help" because it didn't include key players, adding that it would "harm joint efforts to improve the situation on the peninsula." Japan, South Korea, India and Sweden are among those invited. China and Russia -- who supported the North Korea side during the war -- were not
Meanwhile, a Japanese foreign ministry official questioned the need for including countries as distant as Colombia and Greece.
Canada is among several countries that have sought to bolster diplomatic efforts amid escalating saber-rattling by U.S. President Donald Trump and Kim, the North Korean leader. As a result, U.S. Secretary of State Rex Tillerson agreed to co-host with Canadian Foreign Minister Chrystia Freeland a Jan. 16 summit on the topic in Vancouver.
https://www.bloomberg.com/news/articles/2018-01-10/china-japan-criticize-canada-bid-to-play-north-korea-mediator
Added to timeline: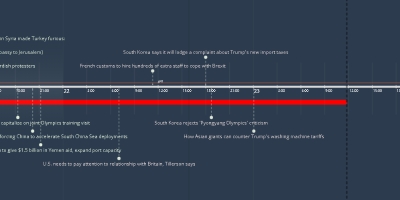 World Politics Time Line 2018
For more information, go to: http://visualtrackers.com/world...
Date: