17 h, jan 10, 2018 y - Vancouver Group: China heaping scorn on North Korea meeting next week in Vancouver
Description:
China has taken aim at an international summit on North Korea in Vancouver next week, saying the event co-hosted by Canada and the United States is likely to do more harm than good.
The Canadian government is keeping a tight lid on which countries have been invited and plan to attend Tuesday's meeting, which Foreign Affairs Minister Chrystia Freeland is organizing with U.S. Secretary of State Rex Tillerson.
But a spokesman for the Chinese foreign ministry revealed Wednesday that his country will not be at the table, even as he criticized the meeting and suggested it will set back -- rather than advance -- peace efforts.
Russia is also expected to be absent along with China, meaning two of North Korea's most important and influential neighbours will be missing when Freeland and Tillerson sit down with other foreign ministers.
A Japanese foreign ministry official, meanwhile, was quoted by Bloomberg News on Wednesday raising questions about the involvement of countries such as Colombia and Greece, which are peripheral to the North Korea crisis.
https://www.ctvnews.ca/politics/china-heaping-scorn-on-north-korea-meeting-next-week-in-vancouver-1.3754011
Added to timeline: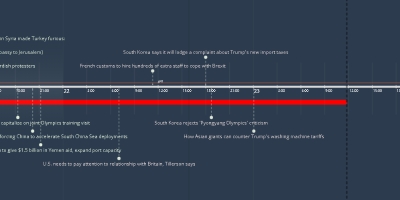 World Politics Time Line 2018
For more information, go to: http://visualtrackers.com/world...
Date: