23 h, jan 9, 2018 y - Trump on North Korea during inter-Korea talk: 'Who knows where it leads?'
Description:
North Korea's official Rodong Sinmun newspaper said all problems would be resolved through the efforts of the Korean people alone.
"If the North and South abandon external forces and cooperate together, we will be able to fully solve all problems to match our people's needs and our joint prosperity," it said.
The United States and Canada are due to host a conference of about 20 foreign ministers next week in Vancouver to discuss North Korea, without the participation of China, Pyongyang's sole major ally and biggest trade partner.
China would not attend and was resolutely opposed to it, its foreign ministry spokesman Lu Kang said.
"It will only create divisions within the international community and harm joint efforts to appropriately resolve the Korean peninsula nuclear issue," he said.
https://www.reuters.com/article/us-iran-rallies-usa/u-s-concerned-by-iran-crackdown-will-not-remain-silent-white-house-idUSKBN1EZ2N1
Added to timeline: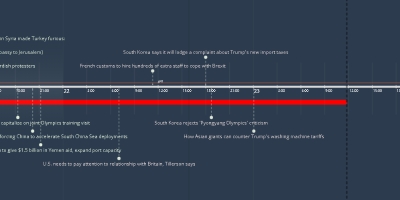 World Politics Time Line 2018
For more information, go to: http://visualtrackers.com/world...
Date: