12h 8min, jan 10, 2018 y - Malaysia to pay U.S. firm up to $70 million if it finds missing MH370
Description:
Debris from MH370 could provide clues to events on board before the crash. There have been competing theories that the aircraft suffered mechanical failure or was intentionally flown off course.
Investigators believe someone may have deliberately switched off the plane's transponder before diverting it thousands of miles out over the Indian Ocean.
https://www.reuters.com/article/us-malaysia-airlines-mh370/malaysia-to-pay-u-s-firm-up-to-70-million-if-it-finds-missing-mh370-idUSKBN1EZ0OA
Added to timeline: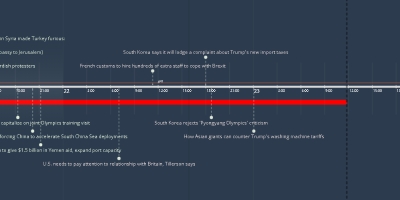 World Politics Time Line 2018
For more information, go to: http://visualtrackers.com/world...
Date: