17h 20min, jan 9, 2018 y - Explosion on Iranian oil tanker Fourth day
Description:
The Zhoushan fishing ground where the collision occurred is known as one of the biggest in the East China Sea, particularly for mackerel and croaker, according to Greenpeace. In 2016, the catch from the East China Sea was 5.18 million tonnes, making it China's largest fishing ground.
A Suezmax tanker can hold a maximum of 5,000 tonnes of bunker fuel to keep it running. The Sanchi may have been carrying about 1,000 tonnes by the time it hit the grain freighter, according to bunker fuel traders' estimates.
https://www.reuters.com/article/us-china-shipping-accident-oil/explosion-on-iranian-oil-tanker-forces-rescue-team-to-retreat-idUSKBN1EZ03L
Added to timeline: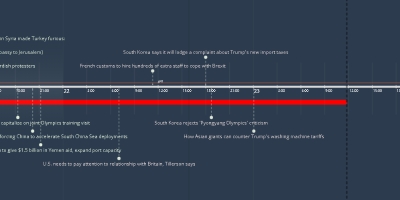 World Politics Time Line 2018
For more information, go to: http://visualtrackers.com/world...
Date: