4h 12min, jan 10, 2018 y - Report: Sierra Leone-flagged cargo ship collided with Russian naval vessel on the Aegean Sea on Dec. 30
Description:
Russia's navy said on Wednesday a Sierra Leone-flagged cargo ship collided with one of its warships on the Aegean Sea on Dec. 30, Russian news agencies said.
Damage to the Russian naval vessel, part of the Black Sea fleet, was slight and it has now returned to port, Interfax news agency said, citing sources.
The Russian warship was traveling from the Mediterranean sea to Sevastopol, a major port on the Crimean peninsula, the TASS agency said.
https://www.reuters.com/article/us-mideast-crisis-syria-russia-ship/cargo-ship-crashes-into-russian-warship-damage-slight-tass-idUSKBN1EZ1B4
-------------------------------------
"The incident occurred due to the fault of the Orka-2 cargo ship, which, in violation of the International Regulations for Preventing Collisions at Sea (COLREG-72), suddenly changed its course to the right when advancing on a parallel track and overtaking the Russian ship on the port side, without making sure that the overtaking was completed, and caused the collision."
Trukhachev noted that Russia had drafted a notarised statement of maritime protest, which described the circumstances of the incident for subsequent actions to recover the damage caused by the perpetrator.
https://independent.ng/russian-vessel-sierra-leone-flagged-cargo-ship-collide-sea-fleet-spokesman/
---------------------------------------------------------
The Russian 'Yamal' landing ship and a Sierra Leone-flagged dry cargo vessel continued along their planned routes after a collision in the Aegean Sea, the Black Sea Fleet press service said Wednesday. The incident happened on December 30 in the Karpathos Strait (9-10 miles south of the island of Rhodes), according to the fleet's representative, Vyacheslav Trukhachev. The Orka-2 dry cargo carrier, under the flag of Sierra Leone, carried out a shipment from Egypt to Turkey. The collision was caused by the Orka-2 ship, which in violation of international rules followed "a parallel course and overtook the Russian ship on the port side," Sputnik reports, citing the military's statement. It added that the ship then "suddenly changed course to the right and caused a collision." No one was hurt, and the ships remained on the move.
https://www.rt.com/newsline/415485-russia-yamal-ship-aegean/
Added to timeline: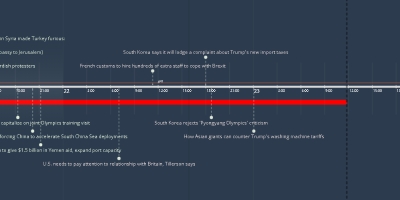 World Politics Time Line 2018
For more information, go to: http://visualtrackers.com/world...
Date: