4h 16min, jan 10, 2018 y - Iranian Nuclear deal: Iran could greatly increase uranium enrichment
Description:
Iran's atomic energy agency said on Wednesday a reimposition of sanctions by the United States would be a violation of Tehran's nuclear deal with world powers, adding that the Islamic Republic had the capacity to greatly increase its enrichment of uranium.
U.S. President Donald Trump must decide by mid-January whether to continue the suspension of U.S. sanctions on Iran's oil exports under the pact, which eased economic pressure on Tehran in exchange for limits on its nuclear programme.
"If the suspension is not continued it's a violation of the (nuclear deal) and the Islamic Republic of Iran will, of course, take the necessary actions," Behrouz Kamalvandi, spokesman for the Atomic Energy Organization of Iran, said in an interview with state TV.
He did not specify what such actions might be. Later in the interview, he said: "The capacity exists within the atomic energy agency to speed up nuclear work in various fields, particularly in the field of enrichment, which can be increased several times more than in the period before the nuclear agreement."
Enrichment, a process which can produce weapons-grade uranium, is restricted under the terms of the deal. Supporters of the pact insist that strong international monitoring will prevent Iran from developing nuclear bombs. Iran has denied that it wants to acquire nuclear weapons.
https://www.reuters.com/article/us-iran-nuclear-kamalvandi/iran-could-greatly-increase-uranium-enrichment-says-spokesman-idUSKBN1EZ1BG
Added to timeline: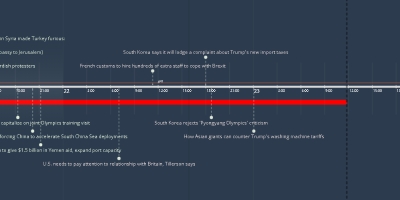 World Politics Time Line 2018
For more information, go to: http://visualtrackers.com/world...
Date: