3h 45min, jan 10, 2018 y - North's chief negotiator threatened to walk out
Description:
A day of smiles and jokes at the first inter-Korean talks in two years quickly evaporated Tuesday night when the North's chief negotiator threatened to walk out after the South Korean side brought up Pyongyang's nuclear and missile programmes.
The two Koreas initiated sports diplomacy in 1957 in an effort to form a unified team for the 1964 Summer Olympics in Tokyo. That effort, however, ended in failure.
Culture and sports diplomacy between them since then has followed the ups and downs of their Cold War-era relations. The two countries remain technically at war because the 1950-53 Korean War ended in an armed truce that has yet to be replaced with a peace agreement.
Participation in the Olympics would help ease the North's isolation. And Pyongyang may hope South Korea could resume desperately needed economic aid at some point. Moon, after all, was once an advocate of former president Kim Dae Jung's "sunshine policy" of reconciliation with the North.
https://www.reuters.com/article/us-northkorea-missiles-dialogue-analysis/the-challenge-of-turning-inter-korean-thaw-into-longer-term-detente-idUSKBN1EZ182
Added to timeline: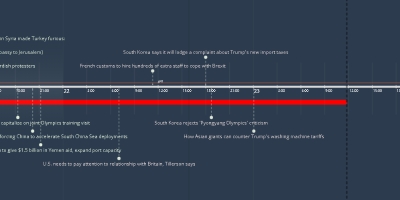 World Politics Time Line 2018
For more information, go to: http://visualtrackers.com/world...
Date: