jan 1, 1778 - 1778 England: Georgiana Cavendish (one of the first PR Specialists) plays key role in political events, and in shaping the Early Whig Party.
Description:
-Cavendish heavily campaigned for Charles James Fox and his Whig Party.
-Influential in persuading different politcal factions to work together.
Inspired a mass of women to promote the Whig Party.
Added to timeline: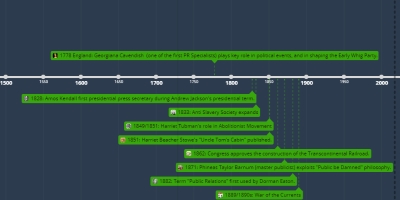 Melissa Restrepo PR Publicity Era Timeline
Key events in the Publicity Era of Public Relations
Date:
Images: