13h 6min, jan 9, 2018 y - Yemen's Houthis threaten to block Red Sea shipping lane
Description:
Yemen's armed Houthi movement threatened to block the strategic Red Sea shipping lane if the Saudi-led coalition it is fighting keeps pushing toward the port of Hodeidah it controls, the Houthi-run SABA news agency reported.
Yemen lies beside the southern mouth of the Red Sea, one of the most important trade routes in the world for oil tankers, which pass near Yemen's shores while heading from the Middle East through the Suez Canal to Europe.
The Saudi-led coalition has been trying since the start of the war in March 2015 to capture Hodeidah, Yemen's biggest port, which receives 80 percent of Yemen's imports, and has in recent weeks launched a ground campaign and intensified air strikes
https://www.reuters.com/article/us-yemen-security/yemens-houthis-threaten-to-block-red-sea-shipping-lane-idUSKBN1EY2AP
Map
https://www.google.ca/maps/search/port+of+Hodeidah,+Yemen/@14.8160836,42.870319,12z/data=!3m1!4b1
Added to timeline: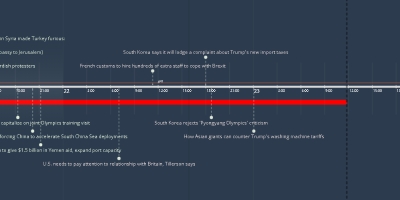 World Politics Time Line 2018
For more information, go to: http://visualtrackers.com/world...
Date: