23 h, jan 8, 2018 y - East China Sea oil tanker burns for third day
Description:
TANKER ON THE MOVE
Satellite imagery of the ship showed the blaze has weakened since the weekend, although the strong winds are dragging the tanker away from the Chinese coast, according to Greenpeace.
Between Sunday and Monday, the floating inferno traveled some 50 kilometers (31 miles) south east, according to Rashid Kang, campaigner at Greenpeace East Asia.
Another major concern is damage to the region's rich fish reserves. The Zhoushan fishing ground where the crash occurred is known as one of the biggest in the East China Sea, particularly for mackerel and croaker, according to Greenpeace.
https://www.reuters.com/article/us-china-shipping-accident-oil/east-china-sea-oil-tanker-burns-for-third-day-as-winds-high-waves-lash-rescuers-idUSKBN1EY0D8
Added to timeline: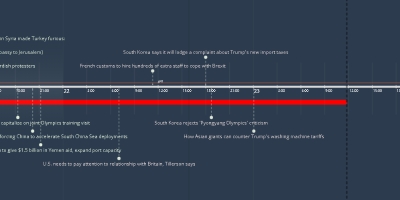 World Politics Time Line 2018
For more information, go to: http://visualtrackers.com/world...
Date: