15h 10min, jan 9, 2018 y - Venezuela's Congress declares 'petro' cryptocurrency illegal
Description:
Venezuela's opposition-run parliament on Tuesday outlawed a "petro" cryptocurrency promoted by socialist President Nicolas Maduro, calling it an effort to illegally mortgage the cash-strapped country's oil reserves.
"This is not a cryptocurrency, this is a forward sale of Venezuelan oil," said legislator Jorge Millan. "It is tailor-made for corruption."
Legislators warned investors that the petro would be seen as null and void once Maduro, who is up for re-election this year, is no longer in office. They added that the petro issue violates constitutional requirements that the legislature approve borrowing.
Maduro has routinely ignored the legislature since his party lost control of it in 2016, and the pro-government Supreme Court has shot down nearly every measure passed since then.
In July, the country elected an all-powerful legislative body called the Constituent Assembly, a vote that was boycotted by the opposition.
The government of U.S. President Donald Trump described the new Constituent Assembly as the consolidation of a dictatorship, and issued sanctions barring U.S. financial institutions from acquiring any debt issued by Venezuela after mid-2017.
That has effectively blocked Maduro's government from refinancing its hefty debt burden, and would likely add to investor concern about the petro, although it was not specifically mentioned in the sanctions measure.
Maduro hopes it will serve as a payment mechanism for foreign suppliers and avoid the payments delays that have grown more acute since the sanctions went into place.
Added to timeline: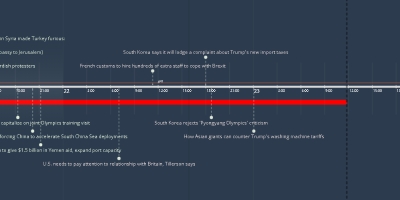 World Politics Time Line 2018
For more information, go to: http://visualtrackers.com/world...
Date: