15 h, jan 8, 2018 y - Iraq Bans Kurdish Firm From Operating Kirkuk Oil Fields
Description:
After Iraq's federal forces recaptured the oil fields in Kirkuk in October, the Iraqi Parliament voted on Monday to ban Kurdish engineering company Kar Group from operating Kirkuk's oil fields.
Baghdad—which never recognized the legitimacy of the Kurdistan region's referendum at end-September—moved in October to take control over the oil-rich area around Kirkuk.
In mid-October, Iraqi government forces seized the oil fields around Kirkuk, which had been under Kurdish control since 2014. The military maneuver knocked some 350,000 bpd of crude oil production offline, and led to oil prices spiking on concerns of unstable supply from the region.
The Iraq-Kurdistan conflict was the first of a series of geopolitical events in the Middle East (the other being the Saudi purge) that pushed Brent oil prices above $60 a barrel toward the end of October.
Now Iraqi lawmakers say that Kar Group is refusing to collaborate with Iraqi state-held North Oil Company (NOC) and hand the Khurmala oil field over to federal government control, according to Reuters. The Kurds, on the other hand, claim that the Khurmala oil field is within the boundaries of the Kurdistan region.
https://oilprice.com/Geopolitics/International/Russia-China-And-Iran-Lose-Interest-In-Venezuela.html
Added to timeline: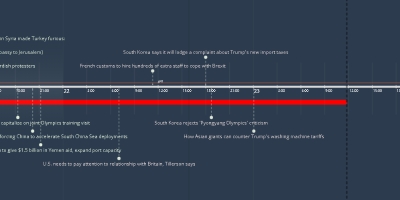 World Politics Time Line 2018
For more information, go to: http://visualtrackers.com/world...
Date: