17 h, jan 8, 2018 y - Russia, China And Iran Lose Interest In Venezuela
Description:
Although China has lent Venezuela more than $60 billion, it recently suspended further loans to Caracas. Chinese Sinopec, the oil and gas conglomerate, sued Venezuela's national oil company PDVSA in December because it did not receive full payments for its orders. Chinese companies are also reported to have lost interest in investing in Venezuela due to the high levels of corruption.
Venezuela also has ties with Iran. Iranian revolutionary ideology in the 1980s was influenced by Latin American leftist doctrine and the two countries constructed consensus around an "anti-imperialist" axis. Since 2001, both countries have reached more than 340 agreements in technology, health, industry, infrastructure, culture, defense and housing. Nevertheless, the vast majority of these agreements have not been implemented. A 2006 joint venture between former Chávez and Iran's former President Mahmoud Ahmadinejad to build cars through Venirauto Industrias C.A. generated losses and was largely unsuccessful. Another joint venture to produce corn flour struggled with low productivity despite high demand for the product in Venezuela. By 2014, Iran canceled a project of the Persian Gulf Petrochemicals Holding in Venezuela. Iran's Rokneddin Javadi, former deputy oil minister of Iran, admitted that establishing offices of the National Iranian Oil Company in Venezuela had no economic justification but rather served political purposes.
https://oilprice.com/Geopolitics/International/Russia-China-And-Iran-Lose-Interest-In-Venezuela.html
Added to timeline: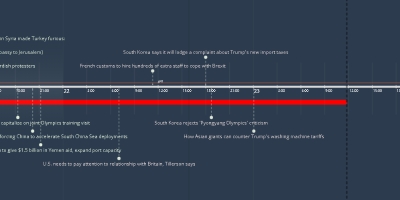 World Politics Time Line 2018
For more information, go to: http://visualtrackers.com/world...
Date: