4h 4min, jan 7, 2018 y - Syria war: Russia thwarts drone attack on Hmeimim airbase
Description:
Russian forces have foiled a drone attack on an airbase in Syria just days after reports that rebel shelling had damaged several planes, activists say.
The attempt to bomb the Hmeimim base near the north-western city of Latakia on Saturday was thwarted when unmanned aircraft were shot down, the Syrian Observatory for Human Rights reports.
Two Russian servicemen were killed when the base was attacked on 31 December.
The coastal Hmeimim airbase is at the core of Russia's war effort in Syria.
On Saturday the Syrian Observatory for Human Rights (SOHR), a UK-based monitoring group, said the base was targeted by drones belonging to an "Islamist faction" operating in the area, citing sources.
No casualties or details of damage to the airbase have yet been reported, the SOHR added.
http://www.bbc.com/news/world-europe-42595184
Added to timeline: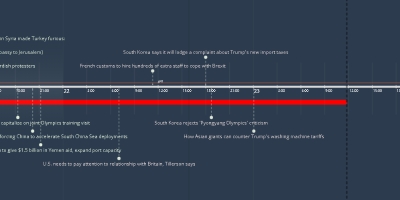 World Politics Time Line 2018
For more information, go to: http://visualtrackers.com/world...
Date: