11 h, jan 7, 2018 y - Furious Trump aide assails book, calls president a 'genius'
Description:
WASHINGTON (Reuters) - A senior aide to U.S. President Donald Trump on Sunday assailed a new book rattling the White House, called his boss a genius and launched an attack on news coverage before a TV anchor urged him to calm down and cut off their interview.
Miller accused CNN of "anti-Trump hysterical coverage" following the Friday release of the book, which portrays Trump, a former reality TV start who took office nearly a year ago, as mentally unstable and unfit for the demands of his job.
The White House has been on the defensive since excerpts of the book were published last week with the president and his aides scrambling to discredit both its portrayal of Trump and the author's methods.
Its publication prompted Trump to post on Twitter on Saturday that he is a "very stable genius." The president attacked the book again on Sunday.
https://www.reuters.com/article/us-usa-trump-book/furious-trump-aide-assails-book-calls-president-a-genius-idUSKBN1EW0QJ
Added to timeline: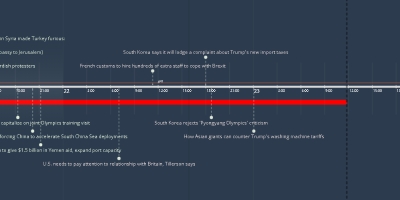 World Politics Time Line 2018
For more information, go to: http://visualtrackers.com/world...
Date: