9h 23min, jan 7, 2018 y - Iran oil tanker crashes with China bulk ship, 32 Iranian crews missing
Description:
A tanker carrying Iranian oil and run by the country's top oil shipping operator was ablaze and spewing cargo into the East China Sea on Sunday after colliding with a Chinese bulk ship, leaving its 32 crew members missing.
The Panama-registered tanker was sailing from Iran to South Korea, carrying 136,000 tonnes of condensate, an ultra light crude. That is equivalent to just under 1 million barrels.
The damage and volume of oil spilled are not yet known.
https://www.reuters.com/article/us-china-shipping-accident-oil/iranian-oil-tanker-burns-32-missing-after-collision-off-chinas-coast-idUSKBN1EW059
Added to timeline: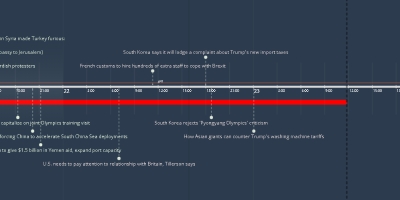 World Politics Time Line 2018
For more information, go to: http://visualtrackers.com/world...
Date: