11h 2min, jan 7, 2018 y - Saudi-led coalition warplane crashes in Yemen: Saudi statement
Description:
DUBAI (Reuters) - A warplane from Saudi Arabia's air forces fighting the Houthi movement in Yemen crashed on Sunday due to a technical fault while conducting military operations, a statement carried by the Saudi state news agency SPA said.
The Houthi armed movement's TV channel al-Massirah earlier said Houthi forces had shot down the fighter in Saada province, adding it was a Britain-made Tornado.
The Saudi statement said the plane had crashed in the war zone. It said the Saudi-led coalition conducted a special operation to evacuate the two pilots who survived the crash.
https://www.reuters.com/article/us-yemen-security-warplane/saudi-led-coalition-warplane-crashes-in-yemen-saudi-statement-idUSKBN1EW0NV
----------------------------
The Saudi and Yemeni governments both accuse Iran of helping the Houthis. Iran, they say, has secretly landed arms on the Red Sea coast. In October, 2009, Yemen's government said its navy intercepted an arms-carrying Iranian vessel. Yemen's state-controlled press claims Houthi rebels have been trained in an Iranian-run camp across the Red Sea in Eritrea. Yemen's president, Ali Abdullah Saleh, says members of Lebanon's Iran-backed Hezbollah militia are teaching them.
https://en.wikipedia.org/wiki/Houthi_insurgency_in_Yemen#Iran_and_Hezbollah
-----------------------------------
U.S. Aids Yemeni Raids on Al Qaeda, Officials Say
The United States provided firepower, intelligence and other support to the government of Yemen as it carried out raids this week to strike at suspected hide-outs of Al Qaeda within its borders, according to officials familiar with the operations.
http://www.nytimes.com/2009/12/19/world/middleeast/19yemen.html
Added to timeline: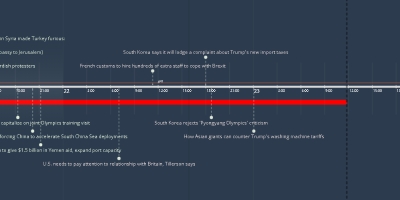 World Politics Time Line 2018
For more information, go to: http://visualtrackers.com/world...
Date: