jan 7, 2018 - Syria and Russia continue to bombard Idlib province
Description:
Syrian government forces and their Russian allies continue to attack the opposition fighters' push in Idlib province.
Russian warplanes have attacked areas in the countryside, killing three people and wounding dozens of others.
In the past two weeks, at least 80,000 internally displaced people have flooded into camps set up by aid agencies.
Rebels in control of Idlib are also facing attacks by ISIS fighters.
Al Jazeera's Laura Burdon Manley has more.
http://www.aljazeera.com/news/2018/01/syria-russia-continue-bombard-idlib-province-180107193219040.html
Added to timeline: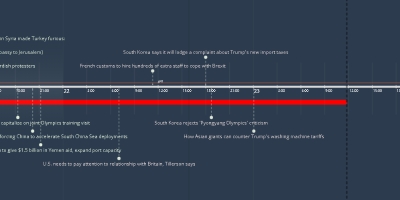 World Politics Time Line 2018
For more information, go to: http://visualtrackers.com/world...
Date: