0h 3min, jan 6, 2018 y - Prince Alwaleed bin Talal detained and released by paying
Description:
Prince Alwaleed bin Talal detained and released by paying
A billionaire who is known throughout the financial world has been held in detention — for two months — by Saudi Arabian authorities. But like the billionaire, the story has disappeared.
Prince Alwaleed bin Talal was rounded up, along with about 200 prominent Saudi royals and businessmen, in a so-called "anti-corruption probe" on Nov. 8.
"He is considered to be probably the most wealthy investor in all of the Middle East and certainly in Saudi Arabia," says Jake Novak, a senior editorial columnist at CNBC.com. Novak has been watching as some of Saudi Arabia's wealthiest people are released from their detention in the Ritz-Carlton.
There's much speculation that the Saudi government has collected lots of money from the wealthy detainees.
"Well, there's really no way of knowing. But we do know what some of the big fish are being asked to pay," says Novak. "There was one other prince who was asked to pay a billion dollars — and he paid it."
https://www.pri.org/stories/2018-01-05/one-wealthiest-men-earth-being-detained-and-no-one-talking-about-it
Added to timeline: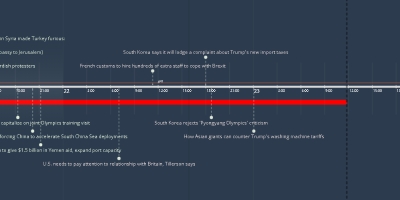 World Politics Time Line 2018
For more information, go to: http://visualtrackers.com/world...
Date: