may 29, 1963 - Mellotron invented
Description:
The Mk1 Mellotron is produced - the first keyboard instrument to use the sound of real instruments. This is achieved by recording real instruments (string section, flutes, choirs etc) playing individual notes onto tape. The taped notes are cut into 8 second lengths, and mounted on a rack inside the Mellotron – one taped note under each key. When a key is pressed, the tape engages with the playback mechanism, and the sound plays back. The Mellotron can be heard on the Beatles 'Strawberry Fields Forever' (flutes); Led Zeppelin 'Stairway to Heaven' (flutes again); or more recently, the strings at the beginning of 'Turn out the Light' by Nelly Furtado.
Added to timeline: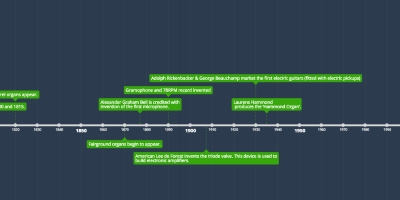 Music Technology Timeline
A timeline of key events in the history of music technology....
Date:
YouTube: