9h 4min, jan 5, 2018 y - Saudi Arabia converts Aramco into joint-stock company
Description:
Saudi Arabia's state energy giant Aramco has been made a joint stock company in preparation for its initial public offering, planned to take place in the second half of this year. The company has a fully paid capital of US$16 billion (60 billion riyals) divided into 200 billion ordinary shares, and a board of eleven directors who will be in charge of the company's listing.
The Saudi government will be responsible for proposing six of the eleven board members, and any shareholder with a stake of over 0.1 percent will be entitled to propose one candidate for member of the board.
Riyadh plans to list 5 percent of Aramco, hoping to pocket as much as US$100 billion, which would value the company at US$2 trillion. However, there have been doubts that the world's largest oil company in terms of reserves is worth so much.
There have also been issues with the location of the listing. The short list includes the stock exchanges of London, Hong Kong, Tokyo, and the NYSE. However, the last one is unlikely to be picked because of litigation risks after Congress passed a post-9/11 law allowing U.S. citizens to sue Saudi citizens, and concerns over how the OPEC production cut deal could be construed as price fixing, which is illegal in the United States.
https://oilprice.com/Latest-Energy-News/World-News/Aramco-Takes-Big-Step-Toward-IPO.html
Added to timeline: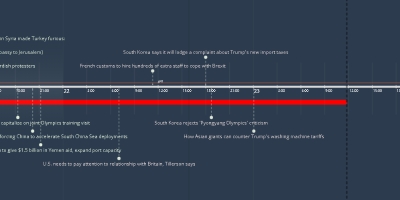 World Politics Time Line 2018
For more information, go to: http://visualtrackers.com/world...
Date: