11 h, jan 5, 2018 y - Toshiba Dumps Westinghouse For $4.6B
Description:
Toshiba has sold its U.S. nuclear power business, Westinghouse, for US$4.6 billion to a group of investment companies led by Brookfield Asset Management. The deal puts an end to a major headache for the Japanese conglomerate, which last year warned that it might have trouble surviving if it didn't find a buyer for the nuclear power plant constructor, which it acquired in 2006 for US$5 billion.
Plagued by project delays and cost overruns that came up to US$6 billion for two large-scale projects in the United States, Westinghouse filed for Chapter 11 bankruptcy protection last March. The business had by that time generated US$6.3 billion in writedowns for the parent company that resulted in Toshiba reporting a net loss of US$9.1 billion for 2016.
When the company filed for bankruptcy protection, there were expectations that a Chinese company would snap it up, as China is spending billions on new nuclear capacity to meet booming energy demand that fossil fuels and renewable energy cannot keep up with. Yet a Chinese offer never materialized, with observers at the time citing as reasons the White House's suspicious stand on China in general and Toshiba's very likely unwillingness to sell Westinghouse to its biggest local rival.
https://oilprice.com/Latest-Energy-News/World-News/Toshiba-Dumps-Westinghouse-For-46B.html
Added to timeline: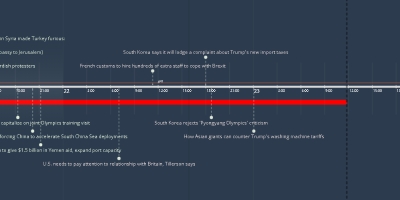 World Politics Time Line 2018
For more information, go to: http://visualtrackers.com/world...
Date: