1h 23min, jan 4, 2018 y - Trump vows support for Iran protesters 'at the appropriate time'
Description:
Trump has sought to ramp up pressure against Iran, which has struggled to contain a week of protests across the country.
But so far his administration's input has been rhetorical and diplomatic.
Trump on Tuesday described the Iranian government as "brutal and corrupt," ignoring warnings that his intervention could backfire.
Trump's administration also demanded a snap UN Security Council meeting to debate unrest that has killed 21 people – mostly protesters.
His top diplomat at the United Nations, Ambassador Nikki Haley, used her public platform to recite protesters' slogans and declared that "the people of Iran are crying out for freedom."
http://www.scmp.com/news/world/united-states-canada/article/2126737/trump-vows-support-iran-protesters-short-specifics
---------------------------------
Iranian Nobel Peace laureate Shirin Ebadi, in an interview with Reuters, urged the United States and the international community to support protests in Iran with political sanctions and not economic measures that could hit the general population.
U.S. President Donald Trump - who has criticized Iran for its ballistic missile program and human rights record - said on Wednesday he would throw support behind Iranian protesters at an "appropriate time".
https://www.reuters.com/article/us-iran-rallies-ebadi/iranian-nobel-laureate-urges-u-s-to-back-protests-with-political-sanctions-idUSKBN1ET2AG
Added to timeline: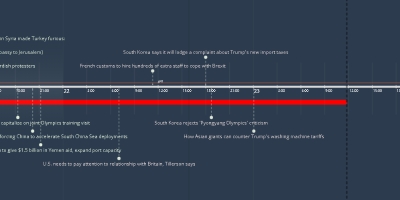 World Politics Time Line 2018
For more information, go to: http://visualtrackers.com/world...
Date: