12h 8min, jun 29, 1767 y - Townshend Acts
Description:
Duties on tea, glass, lead, paper and paint to help pay for the administration of the colonies, named after Charles Townshend, the Chancellor of the Exchequer. John Dickinson publishes Letter from a Philadelphian Farmer in protest. Colonial assemblies condemn taxation without representation.
Raised revenue in the colonies to pay the salaries of governors and judges so they stayed loyal to Britain.
Colonists became angry, and believed their voices were not being heard in England.
Added to timeline: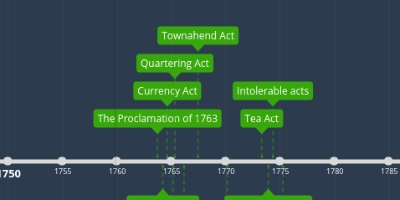 American Rev
Date:
Images: