5 h, jan 3, 2018 y - Singapore and UK ban film made by Palestinian activist
Description:
Singapore bans film focused on indicted Palestinian teen activist.
Justifying the ban, authorities in the Southeast Asian city state said the film "Radiance of Resistance" was "skewed" and potentially divisive for Singapore's multi-ethnic population.
While Singapore's authorities are known to keep a tight rein on public speech and the media, especially when it comes to matters related to race and religion, outright bans are more rare.
With a sizable Muslim minority and surrounded by Muslim majority neighbors where sympathy for the Palestinian cause runs high, Singapore maintains friendly diplomatic and military ties with Israel. But it has lined up with many other countries opposed to U.S. President Donald Trump's recognition of Jerusalem as Israel's capital.
https://www.reuters.com/article/us-israel-palestinians-teen-singapore/singapore-bans-film-focused-on-indicted-palestinian-teen-activist-idUSKBN1ES0P8
--------------------------------
Posters supporting Palestinian teen Ahed Tamimi removed from London bus stops
http://jewishnews.timesofisrael.com/posters-supporting-palestinian-teen-ahed-tamimi-removed-from-london-bus-stops/
Added to timeline: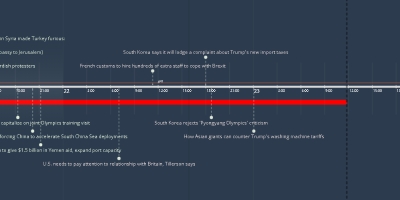 World Politics Time Line 2018
For more information, go to: http://visualtrackers.com/world...
Date: