jan 2, 2018 - Comment: US and China hold secret talks over the North Korean crisis
Description:
"We have had conversations that if something happened [on the Korean Peninsula] and we had to go across a line, we have given the Chinese assurances we would go back and retreat back to the south of the 38th parallel [when conditions permit]," Tillerson said in a speech in Washington.
Tillerson's statement, if true, means the U.S. and China have already been discussing contingencies should North Korea collapse, or if war with the reclusive nation becomes unavoidable.
According to sources well-versed in U.S.-China relations, Beijing had consistently refused talks with Washington regarding a possible collapse of North Korea. China had its reasons, fearing that Kim Jong Un, supreme leader of North Korea, might have become enraged and even more intractable had he realized Beijing was entertaining thoughts of his regime's demise. In addition, China had yet to decide on whether it would support reunification of the Korean Peninsula.
https://asia.nikkei.com/Politics-Economy/International-Relations/US-and-China-hold-secret-talks-over-the-North-Korean-crisis
Added to timeline: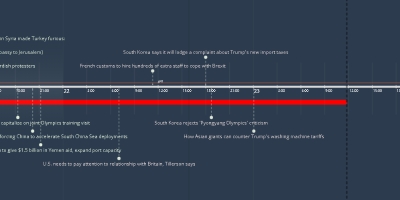 World Politics Time Line 2018
For more information, go to: http://visualtrackers.com/world...
Date: