dec 31, 2017 - North Korea's Kim says 'open to dialogue' with South Korea
Description:
Kim Jong Un on Monday warned the United States he has a "nuclear button" on his desk ready for use if North Korea is threatened, but offered an olive branch to South Korea, saying he was "open to dialogue" with Seoul.
After a year dominated by fiery rhetoric and escalating tensions over North Korea's nuclear weapons program, Kim used his televised New Year's Day speech to declare North Korea "a peace-loving and responsible nuclear power" and call for lower military tensions and improved ties with the South.
https://www.reuters.com/article/us-northkorea-missiles-kimjongun/north-koreas-kim-says-open-to-dialogue-with-south-korea-will-only-use-nukes-if-threatened-idUSKBN1EQ0NJ
Added to timeline: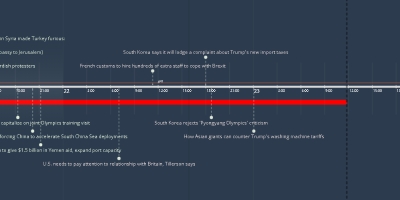 World Politics Time Line 2018
For more information, go to: http://visualtrackers.com/world...
Date: