1h 33min, jan 1, 2018 y - Netanyahu wishes success to Iran protesters, denies Israeli involvement
Description:
Israeli Prime Minister Benjamin Netanyahu praised Iranian anti-government protesters on Monday, while denying as "laughable" Tehran's apparent accusations that Israel was behind the demonstrations.
"I wish the Iranian people success in their noble quest for freedom," Netanyahu said in a video posted on his Facebook page.
"Brave Iranians are pouring into the streets. They seek freedom. They seek justice. They seek the basic liberties that have been denied them for decades. Iran's cruel regime wastes tens of billions of dollars spreading hate," he said in remarks that echoed similar praise from U.S. President Donald Trump.
https://www.reuters.com/article/us-iran-rallies-israel/netanyahu-wishes-success-to-iran-protesters-denies-israeli-involvement-idUSKBN1EQ0TM
Added to timeline: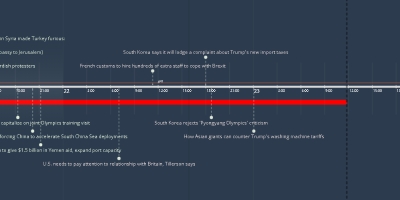 World Politics Time Line 2018
For more information, go to: http://visualtrackers.com/world...
Date: