jan 30, 1463 - Thé dans l'eau (T-O)
Description:
Cette carte intitulée « The division of the Earth Between Noah's son » a été réalisée entre 1459 et 1463 par Simon Marmion. Elle mesure 30 x 22 cm et elle est réalisée sur un manuscrit de vélin. Elle représente le monde sous la forme d'un disque (un « O »). Le monde est découpé en trois parties formant la lettre « T ». Ces trois parties correspondent aux trois fils de Noé et représentent l'Afrique, l'Asie et l'Europe. Les fils de Noé sont représentés sur ces continents. Autour de la terre se trouve l'univers.
J'ai choisi cette carte car elle est à la fois originale et symbolique des cartes du Moyen Age. Elle montre bien l'importance de l'Eglise dans la société de l'époque.
The division of the Earth Between Noah's son | c.1459-63 | Simon Marmion (attribution) | Illuminated manuscrit on vellum 30 x 22 cm, Bibliothèque royale de Belgique, Brussels.
Added to timeline: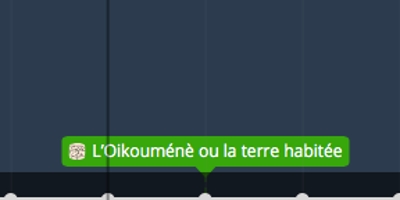 Un monde de cartes
Frise chronologique réalisée dans le cadre du Learning Lab "...
Date:
Images: