jan 23, 27 BC - Pax Romana
Description:
Pax Romana was an era of relative peace throughout the Mediterranean region under the Roman Empire. Roman emperors during the Pax Romana generally focused on centralizing power rather than expansion of the boundaries of the empire.
Rodriguez, Junius P. "Pax Romana." World History: Ancient and Medieval Eras, ABC-CLIO, 2017, ancienthistory-abc-clio-xaaa.orc.scoolaid.net/Search/Display/577424. Accessed 21 Dec. 2017.
Added to timeline: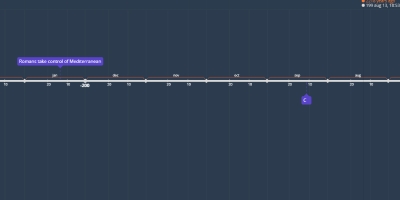 AVA
Date: