dec 31, 1876 - The phonautograph
Description:
was the earliest known device for the recording sound. The phonautograph was invented by a Frenchman Édouard-Léon Scott de Martinville. It took the vibrations from the tube to imprint on smoke-blackened paper or glass. By mid-April 1877 Charles Cros had realized that a phonautograph recording could be converted back into sound by Photoengraving then tracing into a metal surface to create a playable groove, then using a stylus and diaphragm to recreate sound.
Added to timeline: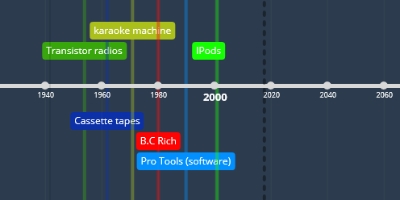 Technology in music through time.
how Technology had developed overtime.
Date:
Images: