jan 23, 2017 - FREE Pattern Brush Set Version 2.0
Description:
[update 01-23-2017] Added 9 FURRY VAN PELTS animal fur brushes: I used seamless animal fur textures with a resolution of 1920 × 1920 pixels. All brushes are speed, tilt, and pressure sensitive (default=size).
The FURRY CAT
The FURRY DOG
The FURRY DOTS
The FURRY GIRAFFE
The FURRY LEOPARD
The FURRY LION
The FURRY SPECKLED
The FURRY ZEBRA
The TOON LEOPARD
Added to timeline: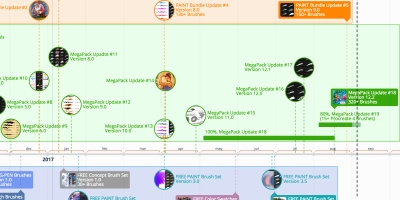 Georg's Procreate Brushes - Updates, New Brushes and Release Dates
Updates, new brushes, and sets for Georg's Brushes:
http://p...
Date:
Images: