apr 6, 2017 - PATTERNOIK Power Pack Version 6.0 40+ Brushes
Description:
40+ Texture, Pattern & Concept Brushes for Procreate:
https://sellfy.com/p/2q5Z/
Power up your illustrations, paintings & concept designs with this unique pattern, texture and SFX brush set. Seamless high resolution textures make sure your artwork and concept designs always look great.
UPDATES
New brushes & all updates of this set will be included with your purchase!
[update 07-19-16] 3 BONUS brushes added: The PARALINER (alpha + beta), the PENTALINER and good old ELDER!
[update 07-25-16] BONUS brush added: The BOSCH (seamless pattern texture brush)
[update 10-06-16] 2 BONUS brushes added: The ACRYLOID and the DRY BRUSH 2.0
[update 01-05-17] 30 BONUS brushes added incl. FRACTAL brushes, TEXTURIZERS and brand new CONCEPT brushes
[update 04-06-17] Added 11 BONUS brushes incl. the ACRYLIC ANNA, HYBRID HANNA, FLYING BIRDS, BRUEGEL, and IMPASTO variants.
Added to timeline: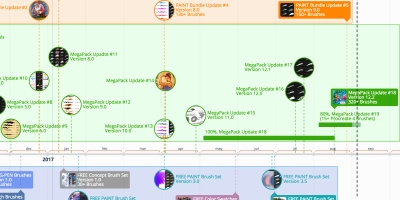 Georg's Procreate Brushes - Updates, New Brushes and Release Dates
Updates, new brushes, and sets for Georg's Brushes:
http://p...
Date:
Images: