jun 22, 2017 - DYNAMIC DOODLER Set Version 1.0 30+ Brushes
Description:
DYNAMIC DOODLER Set: 30+ Pencils, Pens & Multi-Purpose Brushes for Procreate
https://sellfy.com/p/gnN5/
With this versatile set, you'll get more than 30 professional Procreate brushes :) It's a new collection of my favorite pencils, pens, fine liners, felt tip, and sketch brushes. I also included multi-purpose ink/pencil brushes like the new STORYBOOK PENCIL, the PRISMOKOLOR, the PENCILLER, and last but not least the famous DUPA PENCIL brush.
"I've also fallen in LOVE with the Dupa pencil brush. Previously, I really liked the 6B included with Procreate, but I find the Dupa brush superior in every way. My guess is most people buy this pack for the ink brushes, and may have overlooked this gem. For the first time, I feel like I could throw away my black and white Prismacolor pencils and never look back!"
joe12south (more brush reviews: http://procreate-brushes.com/tagged/reviews)
BONUS BRUSHES:
The CHERRY SKETCH-UP: A multi-purpose workhorse brush with a sweet flow and smooth dynamics.
8 SPEED LINER brushes
DAVIS ink brush & UDERZO Letter Pen from my INK BRUSH Sets
Added to timeline: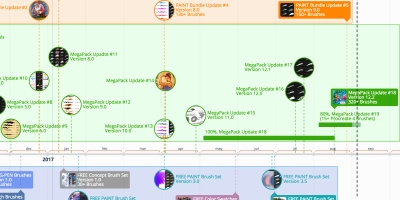 Georg's Procreate Brushes - Updates, New Brushes and Release Dates
Updates, new brushes, and sets for Georg's Brushes:
http://p...
Date:
Images: