jan 10, 2017 - BLENDER & Paint Set Version 2.0 24+ Brushes
Description:
24+ Procreate BLENDER Brushes for WATERCOLOR, PASTEL & OIL PAINTING
https://sellfy.com/p/PwHU/
This versatile BLENDER set contains more than 24 painterly blending brushes with seamless natural media textures. It's great for watercolor, pastel and oil painting as well as a fun way to apply paper, canvas, grunge and other textures to your artwork.
To various degrees, the color runs out at the end of each stroke. If you keep on painting without lifting your finger/stylus, you can blend the colors and apply textures to your drawing.
This Procreate brush set includes:
The ACRYLOID BLENDER
The BARK BLENDER 2.0
The BRICK BLENDER 2.0
The BRUEGEL BLENDER
The CANVAS BLENDER 2.1
The CLAY BLENDER 2.0
The CONCRETE BLENDER
The DIRTY BLENDER
The DRY BLENDER
The DUPA BLENDER
The GRUNGE BLENDER 2.0
The IMPASTO BLENDER
The IMPRESSIONIST BLENDER
The OIL PAINT BLENDER
The PAPER BLENDER 2.0
The PASTEL BLENDER 2.0
The SMOKE BLENDER
The SPONGE BLENDER 2.0
The SPRAY BLENDER
The WATERCOLOR BLENDER A
The WATERCOLOR BLENDER B
The WET BLENDER
Added to timeline: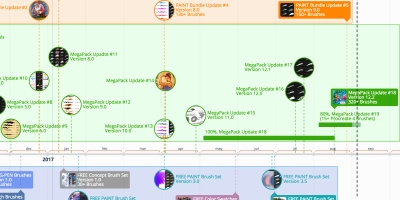 Georg's Procreate Brushes - Updates, New Brushes and Release Dates
Updates, new brushes, and sets for Georg's Brushes:
http://p...
Date:
Images: