jun 19, 1950 - Made his own 'Grand Tour'
Description:
In the summer of 1950 he went on foot to Europe making his own 'Grand Tour' through Switzerland to Italy, returning through France. His first visit to Norway was in 1951 which became an extended stay and he has returned many times since. From 1961 to 1963 he again lived in Norway, "painting, singing, farming, walking, youth hostel wardening and dancing".
With his wife June Miriam he founded and led Rauma Leikarring. They danced at events in Oslo, Dombås, Trondheim and Bodø. With Arne Digernes he researched the bunad worn by the Leikarring.
Added to timeline: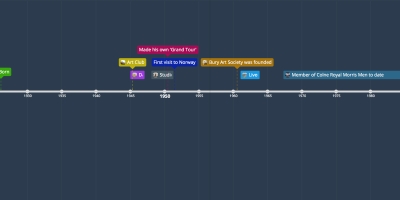 David E. Swithenbank timeline
A timeline of events throughout David E. Swithenbank's life ...
Date:
Images: